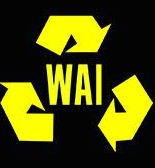 ---
We Are WASTEAWAY INDUSTRIES.
We Make Rentals Easy!
About us (and our rentals) WASTEAWAY INDUSTRIES (WAI) realizes you may have a few questions concerning your rental, like how soon can it be delivered? Or how much is the cost? Please feel free to give us a call anytime so that we can promptly provide answers to your questions and concerns.
We are conveniently open to serve our customers 6 days a week! Our hours are Monday-Friday 7AM-7PM and Saturday 7AM-2PM. Always CLOSED Sundays. Stay connected with us via:

---
Four Facts About Our Company
We Make It Easy
Our company motto and phrase we work hard to uphold. Call today and let us help make your dumpster rental an easy process!
Convenient Payment Options
We accept payments via; CASH, CHECK, VISA, MASTERCARD, and AMERICAN EXPRESS.
---
Rental Areas
We proudly serve the Greenville and Anderson area. Please call for out of area inquiries.
Custom Rental Options
Our clients can choose from daily(3 or 7 day), weekly, and monthly rentals.

12 Cubic Yard Roll-Off
Our 12 Cubic Yard roll-off container/dumpsters are sized approximately 12' length, 8' width, and 56" in height. Great for limited space and most often used via homeowners, businesses, and contractors.
Savings Are Tremendous
Our rentals save money and time! One full roll-off container is the equivalent to 3.5 truck loads. This saves our customers time and the hassle of making multiple trips to dispose of their waste.